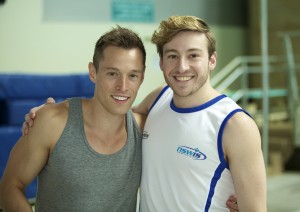 Last Wednesday afternoon I had the great pleasure of photographing a "You Tube" Superstar and a Diving Legend together!  Davey Wavey (not his real name, I'm sure) was in town and decided to take Matt up on the offer of some impromptu diving instruction.  I tagged along to take a few shots of the proceedings.
The goal was to leap off the 10m platform and have fun.  Well…..they had fun, but Davey was a bit hesitant for the 10m.  I suppose my anecdotal stories of ski diving accidents didn't help.  He did however conquer the 5m which is more than I think I would be willing to go.  Matt was a considerate teacher and you can get an idea of how the afternoon unfolded from the shots.
By the way this was my first brush with "You Tube" Stardom….an entirely new concept for me.  So, I asked a thousand questions of how it all came about to Davey Wavey on the way home in the car, and Davey was only too happy to answer!
You can catch up with Davey Wavey via his YouTube channel at http://www.youtube.com/wickydkewl,
And Matt Mitcham via his Facebook page at https://www.facebook.com/MatthewMitchamOlympian.