This week at "John McRae Photography" will see the continuation of filming of "Dr Martin", directed by Wahn Sulli.
The studio space will be converted into the home and studio of one of the characters in the film, a young photographer…apparently.
In preparation of the set we see Dot, a trusty artist who has a studio space in another part of the building, working on painting the walls.  (pictured below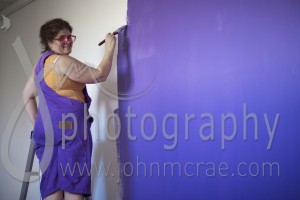 The colours are quite a dramatic change from the stark white we are all used to.   I used the opportunity to snap a few images of a group of my friends on the weekend.  We had gathered in the studio to play a round of cards.  Knowing that this colour scheme will be quite temporary I wanted to document the experience and asked them to pose.  Here is Lachlan, Jonathan, Matt and Rob.