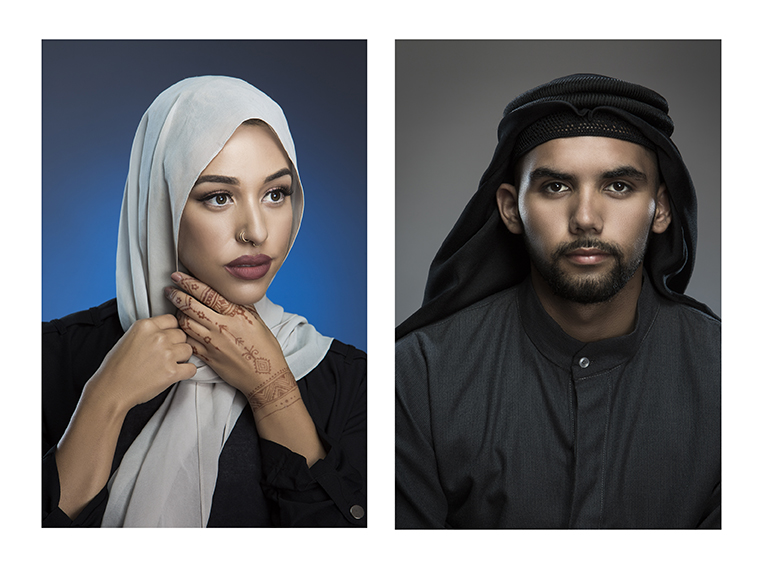 John McRae will exhibit his latest body of work Spot the Arab for the first time in Australia. Images from McRae's Spot the Arab series were shown in June 2017 in Rome, at the cutting-edge Italian gallery Il Ponte Contemporanea. This exhibition took place in the centre of the "Eternal City", close to the Vatican, in the heart of the Jewish Ghetto.

---
Name: Spot the Arab – John McRae
Venue: Backspace Gallery, Ballarat, Australia
Dates: Exhibition runs from March 1-18 , 2018
Opening Thursday March 1, from 6pm – 8pm
Backspace Gallery hours: Thursday – Sunday, 12 – 4pm, The artist will be present for the duration of the exhibition.
The closing weekend of the exhibition will coincide with Harmony Fest (March 17-26), White Night Ballarat (Saturday March 17, from 4pm to 2 am) and Ballarat Cultural Diversity Week (March 14 – 25).
Note: the Backspace Gallery will remain open from 4pm to 2am on March 17, as part of White Night Ballarat.
Address: Huyghue House,
Alfred Deakin Place (Camp Street) Ballarat
Owned and operated by the City of Ballarat Arts and Cultural Development team
The City of Ballarat respectfully acknowledges the Wadawurrung and Dja Dja Wurrung people – traditional custodians of the land.
---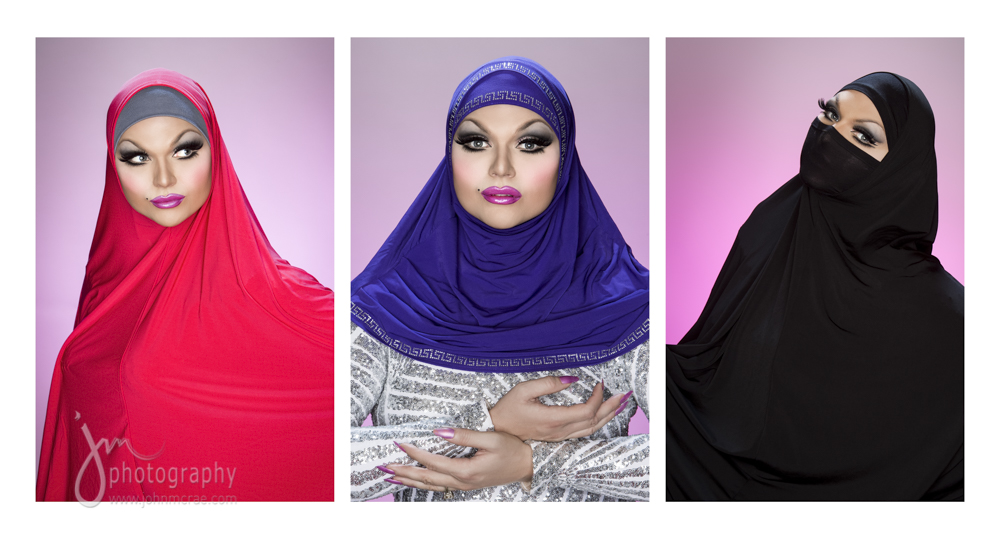 Artist Statement:
Spot the Arab challenges the viewer to identify who among the line-up identifies as Arab. I query if this is such a relevant question in the first place. How complicated life becomes when such things are treated as important.…maybe it's more interesting to just experience the actual person in front of you, no matter how they are "dressed", and to leave it at that.
Spot the Arab is a project based on portraiture, as a summary of various themes, ideas and concepts aligned to how I reflect upon contemporary issues of religion, race, gender, orientation, nationality and freedom. I present this work in a game-like yet very serious manner. It is a topical celebration of diversity, with a powerful message about tolerance.
Following 9/11 we have seen a growth in the stigma surrounding the idea of Arab/Muslim/Middle-Eastern, driven by incessant, hounding imagery of the "terrorist". I resent this repeated, visual conditioning, which occurs every time you turn on the television or open a newspaper. It is easy to make fake computations and lose your ability to comprehend the subtleties and differences…so that you may no longer see the actual person standing in front of you. How often does this occurs in all areas of our society? How often do we close down communication as a result? I decided to take this particular stereotype and use it to draw attention to the insanity of discrimination.
This show has been built around a photo installation, a retrospective of my portraits since 2002 on the theme of the illusions and stereotypes of what is an Arab today. It looks at a selection of people I have photographed over the past decade in numerous countries and from different religious and ethnic backgrounds. In most cases I have imposed Middle-Eastern clothing onto my subjects (who may otherwise wear jeans and a t-shirt) and have asked them to enact the role of what they consider an Arab might be. The sitters include men, women and transgender people in the "guise" of Arabs and dressed accordingly. Spot the Arab focuses on social fictions of femininity/masculinity, recurring themes in my work.
At the end of the portrait session I asked each subject to exactly describe how they identify, since in this way, we can over-ride the preconceptions of imposed racism and prejudice….and whether they identify as "Arab" in any way. This gives additional weight to the complexity of each portrait.
For example, Ali, a Lebanese-Australian national raised in Paris but who is currently based in London, has frequently posed for me over the past decades. He provides a sharp description of how he defines his own identity.
"My ethnicity is Arab, I see myself as Semitic too. I also have Persian lineage," Ali explains. "Gender is very fluid in the male body that I adore, so I project the idea of Macho Male. My religion: Agnostic, Neo-pagan, Baphomet Worshipper, Hermetic Qabalist, Neo-Platonic, Sacred Whore (I go as 'London Arab Master' these days). I love Shia-Islam too."
I tend to create works in series, often spanning different continents and time-lines. This introduces a multi-faceted and shifting perspective, never a single cultural viewpoint. My specific fascination is to use my camera to break down stereotypes and visual codes, more important today than ever. In my portraits, I try to capture sly or hidden messages, and then juxtapose these with more blatant aspects of drama, styling and emotion, whether it is authentic or staged. It is always about intimacy versus theatricality.
John McRae, 2017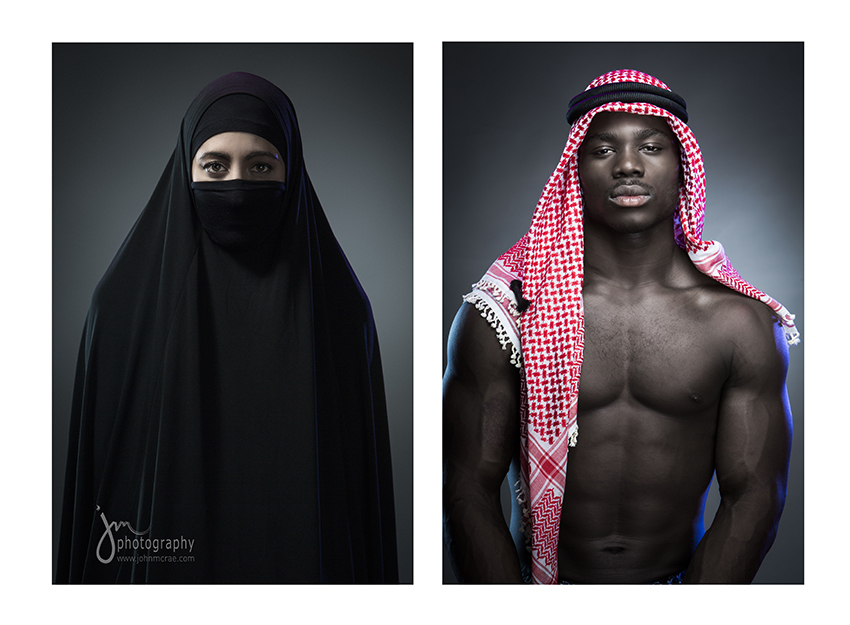 ---
Spot the Arab with be running with a number of community based events which are taking place in Ballarat concurrently:
– White Night Ballarat (Saturday March 17, from 4pm to 2 am)
– Harmony Fest (March 17-26)
– Cultural Diversity Week (March 14 – 25).
---
"SELFIE STAND"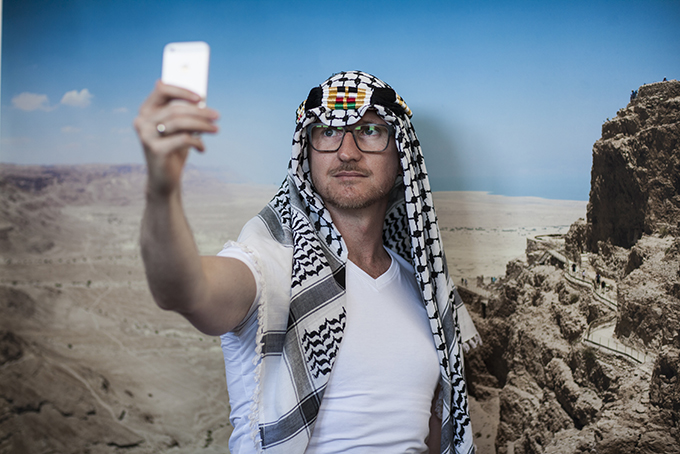 Spot the Arab will challenge the viewer to identify who of the various models, dressed in Middle Eastern costume, actually identify as Arab. Viewers will also be invited to participate in the SELFIE STAND, an area in the gallery reserved for those who wish to take a selfie dressed in the Middle Eastern clothing (provided) in front of an Arabian backdrop. The viewer is then encouraged to post this image on social media with the hashtag #spotthearab. Once posted, the artist will print the resulting images and then adhere them to a wall of the Backspace Gallery, so that the visitors can become part of the exhibition.
---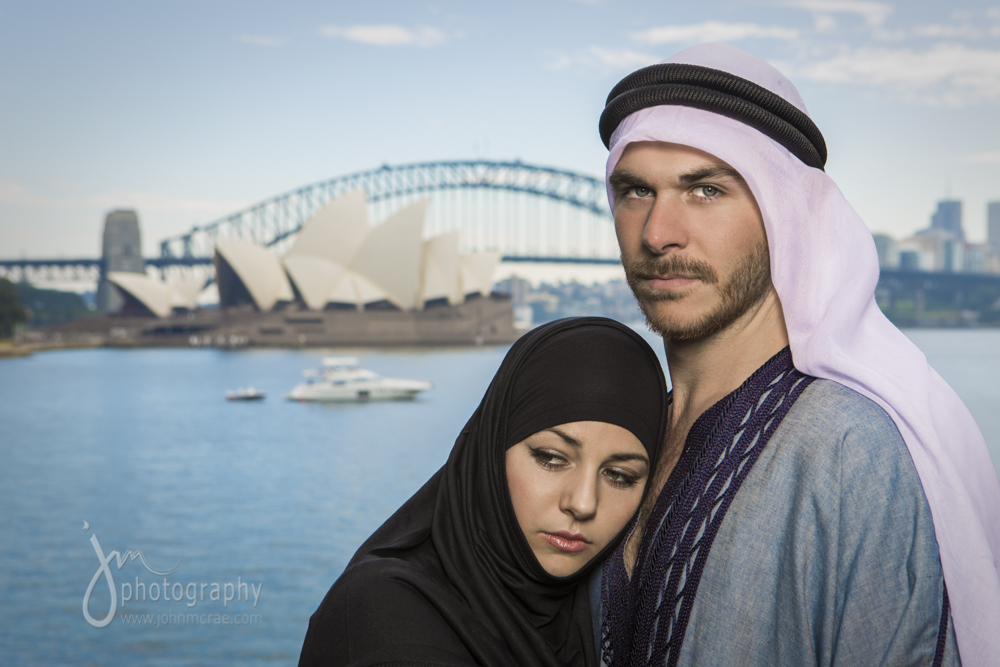 For further information about the exhibition go to:
www.johnmcrae.com/spot-the-arab
See also the on-line article from "Genius Magazine" (European based arts and culture magazine)
---