GOOD NEWS!
My portrait of George Frazis has been selected, among 20 works, as a finalist in the annual "Shoot The Chef" competition.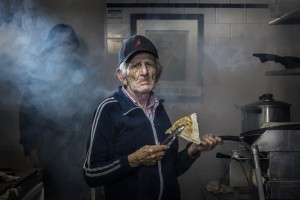 Artist Statement:
George Frazis is one of those rare diamonds. George spent 15 years as a cook in the Greek Merchant Navy. In 1963, after jumping ship in Newcastle to be with his fiancee, Anthippe (pictured in the smoky background of the image), he found work as a chef in several of Sydney's most glamorous and sometimes notorious restaurants, including Chelsea's in Kings Cross, The Russian Coachman in Surry Hills and Dimitri's, serving culinary delights to the wealthy, the not-so-wealthy, the famous and the infamous.  Fast forward 50 years and we find George still in the kitchen, now cooking in his son's Rozelle coffee bar, Latticini, where we see the appreciation for his loyalty and hard work proudly displayed on the wall, ironically announcing his "Employee of the Month" status.
All 20 finalist works can be viewed on exhibition, as part of the Parramatta Lanes Festival from October 6 – 9, 2015  (http://www.parramattalanes.com.au)
People's Choice Award:
Now I know all of you would want to cast your vote for the people's choice award….well it's very simple, click on the following link to take you to the SMH Clique page where you will find the winner and all finalist works displayed for you to vote on your favorite.  Make sure you vote!
http://www.smh.com.au/national/clique/for-the-love-of-photography-and-food-shoot-the-chef-2015-20150821-gj4ni7.html