While holidaying in Malta I found myself attending one of the many religious festivals on the Islands. I was on the island of Gozo and happened to be there for the festa of the Madonna in the main cathedral in the capital, Victoria.
There is such universal participation in the padgentry of the festa that it is impossible not to be moved by the colours and emotion of the various rituals and rights of passage. I was particularly inspired by the procession of the statue of the Madonna through the streets of the ancient city. The gold gilded, life size statue is carefully prized from her year long resting place in the cathedral by the men of the city and is adoringly carried on the shoulders of her bearers, through the narrow streets. Eventually she is returned to wait another year.
I decided that I would explore this experience photographically by creating my own interpretation of what I felt as I was watching the festa of the Madonna on Gozo.
I suppose I wanted to try to understand or duplicate my experience of the emotions of these events,but using the stillness of the photographic medium. Although this a fairly literal representation of the Madonna, I chose to depict the image as a human model in a saintly pose, rather than as a statue, and for the backdrop, instead of a milling crowd of fervent followers, I used the desolate landscape of an abandoned and decaying hotel swimming pool. Framed against the blue sky, the Madonna is poised on a bridge between the earth and the heavens.
John McRae, 2010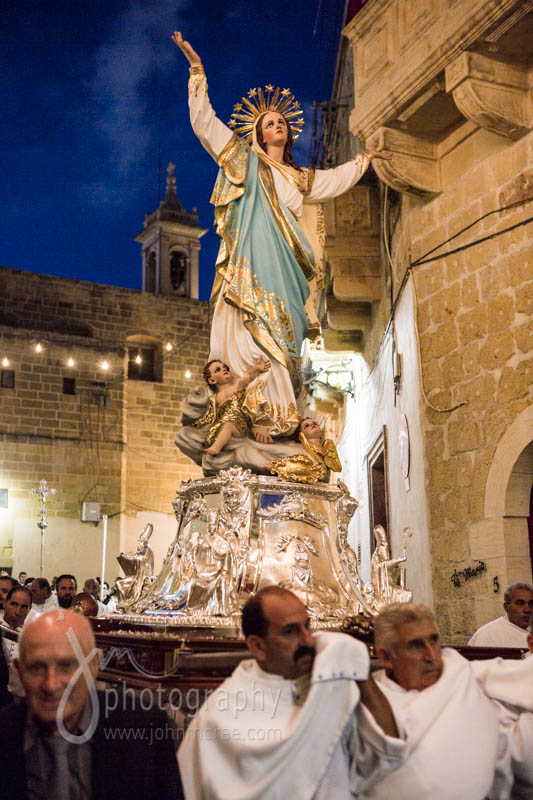 For more pictures and a blog entry on my 2018 trip to Malta click here.