Five months ago, in early November 2017, Dan and Verity said "I do". They tied the knot on the weekend just prior to the mammoth announcement of the plebiscite on marriage equality in Australia. The ceremony and reception took place in a picturesque paddock at the foot of Mount Victoria, in the Blue Mountains, N.S.W. Dan and Verity specifically asked their guests to dress in a single colour of their choice. Their intention was to stage a group photograph of themselves with all their guests, positioned loosely in the colours of the rainbow.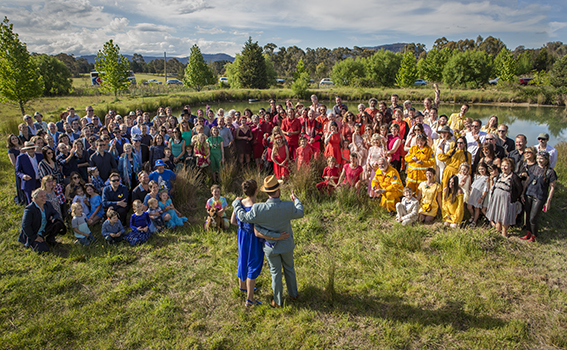 My shot is not only a document affirming this joyful event at which Dan and Verity were free to commit their love and support for each other in front of their friends and family, it is also an expression of Dan and Vertiy's solidarity with their LGBTQI brothers and sisters on the issue of marriage equality. This group portrait even heralds an early celebration of the positive outcome that everyone was hoping for.
I entered this photo in the 2018 Moran Contemporary Photography Prize, since for me, it follows the Moran's mandate for images that interpret the changing reality of life in Australia today.
---