When I first met Will he was a dancer and choreographer.  Over a period of a few years I had the good fortune to work on a number of shoots with Will and his team, at the time.  However, he disappeared for a while overseas.  Recently, he re-surfaced in my life and asked me to work on a new set of images for a forthcoming project, based in Brisbane.
Here are some images from the day.
The "Sydney Props Specialists" in Marrricville, where the shoot took place,  has a bit of an "Alice in Wonderland" feel with all these props and sets lying around throughout the building.  The facilities are great and the place is a lot of fun.
My trusty assistant, Erick, re-living his days as a Paris cat-walk model…..a while ago, I might add!
I love taking shots of make-up and hair….always a very concentrated effort.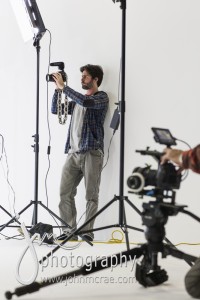 Maxime was covering day "en video".  Can't wait to see the results.
Dan Murphey was directing the video component…..
Plenty of talented girls animated the styling…………..