I'm down in Victoria currently.  I'm shooting for a band called "Kritta" and  spending some time with my sister in the little village called, Pomonal.  It's nestled nicely at the foot of the Grampian mountain range.  
I had a fab day yesterday with a guided trip to Stawell's historic sites of importance by, none other than, Denise herself.  Denise is my sister's best girlfriend.  She rocked up with the Ugandan flag proudly displayed at the front of the car and the day proceeded beautifully from there…..Here are a few visual references of our day……
Denise was very stylish in her "black and white" outfit.  Unfortunately the flag blew off half way to Stawell.  Fortunately, Denise stopped the car immediately and I managed to salvage the flag as a momento of the occasion.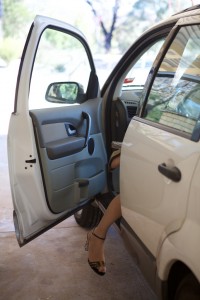 I love this shot…….
Denise is restoring this vintage car….she is so proud!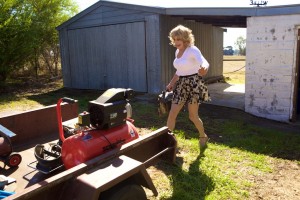 A few odds and ends needed to be loaded in the trailer before we took off……you see Denise and her "tree lopping" boyfriend, Greg,  are moving to Stawell into a new abode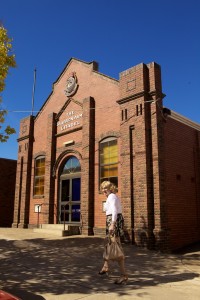 We hit Stawell and I thought Denise wanted to say a little prayer at the Salvation Army Citadel before starting our tour….but in actual fact she was going to the local bakery to buy a loaf of bread for her well known cucumber sandwiches.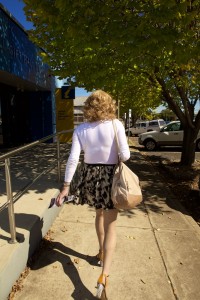 Denise walking to the "Stawell Gift Memorial Museum".  We wanted to get a couple of brochures on the historically important sites of Stawell before we went  for lunch.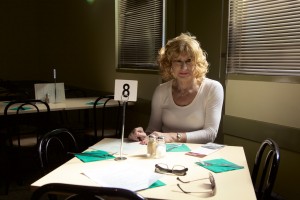 We had lunch at the Stawell Hotel……….here's Denise about to choose a dish from the delicious menu provided by the establishment.  The kitchen was run by a Sikh punjabi Indian lady who served us.  She had moved from the punjab about 8 years ago with her husband and they had settled quite comfortable into the rural setting.  She said she found the locals very friendly.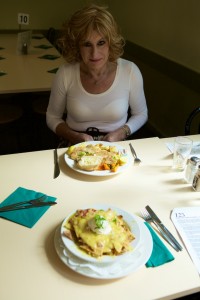 Denise had fish and I had a nachos!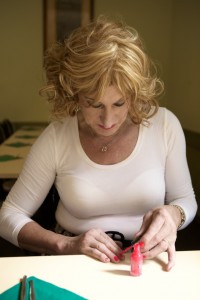 Afterwards…..Denise re-applied her nail polish…..before we had one last drink on the terrace.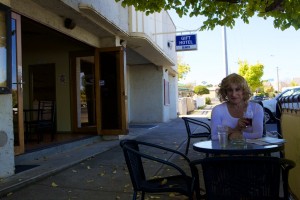 Denise looking relaxed and happy on the footpath in front of the Hotel.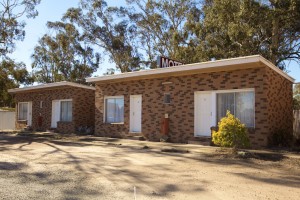 This is where Denise used to stay when she first started coming to the area….unit number 4 to be exact.  She noted that this "Truckie Road Stop" used to be a brothel and that she was initially confused by all the attention she was getting from the road house clientele.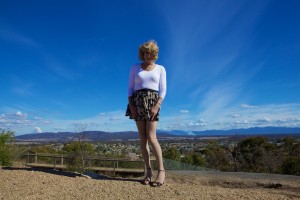 Denise standing on the biggest hill in Stawell…..there's a monument to the 1st World War just to the right of Denise.  In the distance you can see Pomonal as one looks towards the Grampians.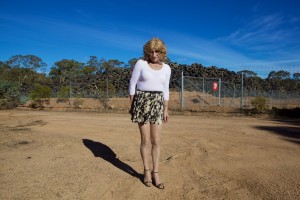 This was a highlight…….it's a gigantic mound of tyres.  Apparantly some person used to stock pile them here before cutting them up into little pieces and sending them to a buyer in China….well the story goes that the Chinese client pulled out and the guy went broke…..now the township is left with a "tyre" problem…..no one seems to know what to do with this ecologically unfriendly mountain of tyres.  Denis has a few ides though…..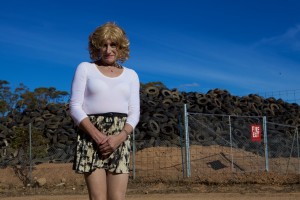 More tyres……..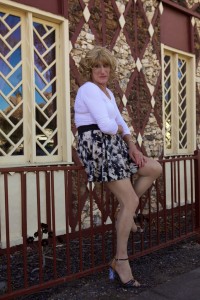 This is Denise pictured at the famous "Diamond House".  A local hangout for Jazz musicians from all around the world.  It was built very early in the 1860's…by Mr Diamond.  All the granite and quartz has been cut to form the wondrous diamond shapes you can see in the background.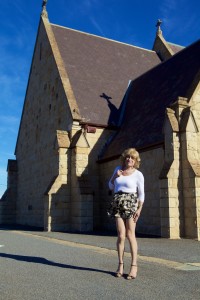 Denise and I went looking for a "no longer" operating convent.  We didn't find it…..as it had been closed down many years before our arrival.  Denise felt it had closed down under suspicious circumstances.  However we found the Catholic church.  It was closed but I managed to capture a couple of shots of Denise looking rather religious outside this rather beautiful building.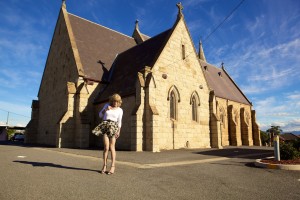 The wind played havoc with Denise's dress at times.  I had to be careful not to shoot too many shots of her panties.  Here she understood and attempted to hold it down for the shot.
Well folks that's about it…..I may post some more at a later stage.
It was a lovely day and enjoyed by all.
Stawell is well worth a visit, if you have no where else to go.
.