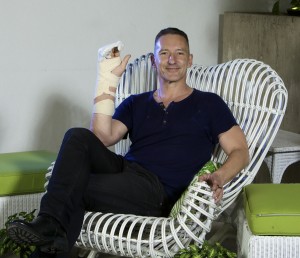 Hi Guys,
Welcome to my first blog entry and welcome to my new web site.
Compliments to the IT master, Mr Lachlan Fletcher, who single-handedly spearheaded the process of furnishing me with this new site.  Contact me if you want his details.
I have all good intentions of blogging regularly which I am told is what is required of a blog.
My first entry is merely a welcome note and a really short explanation of the hand in the recent shot of me.  Alas, for a short while, I have been rendered a one-handed photographer.  A really stupid accident picking up a bucket while feeding some horses meant I have torn the tendon from the bone in my ring finger.  Of course it would have to be my right hand.  Surgery has seen the tendon threaded back into place and secured and now I must endure the 6 weeks of referring always to my left hand.
However, there's no way a small finger handicap is going to stop me taking fabulous shots! (tying my shoe laces… maybe)
All the best,
John.