My work has been included in an exhibition about integration at the CAM Museum in Italy.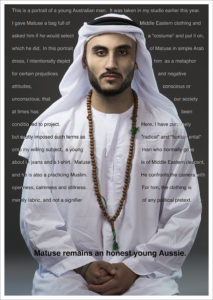 A handmade poster using my photograph of Matuse – Portrait of a Young Aussie, has been included in a new group exhibition at the Casoria Contemporary Art Museum, near Naples in Italy. Promoted as the biggest exhibition ever realized on the theme of integration, "You no speak Americano original" aims at highlighting issues of discrimination and racism. It functions as an open call to all artists of any nationality, race, religion, age and sexual orientation to fight against intolerance. The exhibition is curated by CAM museum director Antonio Manfredi, in an institution which often specifically looks at the how contemporary artists view the conflicting worlds of politics, corruption and crime. The publicity poster for the show is in the form of an ironic portrait of Donald Trump as Uncle Sam, recruiting all artists to join his private army of distrust and racism.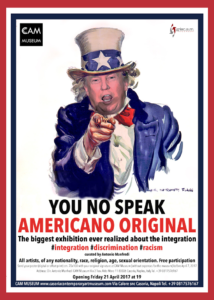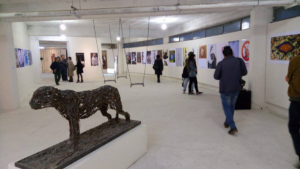 The exhibition "You no speak Americano original" includes posters commenting on the themes of racism and prejudice, made by more than 100 artists, primarily from Italy, but also from Argentina, Australia (me), Austria, Belgium, Egypt, France, Germany, Kosovo, Macedonia, Malta, Norway, Portugal, Romania, Spain, Turkey, UK and USA.
Link to the exhibition
http://www.casoriacontemporaryartmuseum.com/it/you-no-speak-americano-original/