My dear friend Jonathan Turner dropped me an e-mail following the recent Mardi Gras event in Sydney.
I just had to publish his synopsis of events, as follows:
10 Mardi Gras Highlights from Jonathan Turner
Sadly, the 37th Mardi Gras is over, and all the recovery parties have now been mopped-up and vacuumed. Each year, there are numerous festive signifiers, demonstrating how all of Sydney really does become Mardi Gras in early March. Here are some events we witnessed in 2015.
1. Bunnings warehouse in Alexandria jam-packed with power-tool poofs and handyman dykes buying hardware for expert float construction.
2. Donna Summer's "I Feel Love" played at high-volume over the loudspeakers of Woolworth's in Double Bay on Friday afternoon.
3. Mimi the "mermaid" having an aquatic-themed birthday party at Sea Breeze fish'n'chip shop in Darling Street, Rozelle, complete with bubble machines, deejay Garry Tee playing deep oceanic music, and various guests dressed as lobsters, pirates, flotsam, "jelly-fish bitches" (the obligatory Maltese Joseph, Nigel, Ivan plus Paolo), Bondi life-savers, Helen as the Bermuda Triangle, Cameron as the Muff Diver, and some idiot as a blue-ringed octopus.
4.  Policemen in couples cruising/patrolling the dance-floor at the Harbour Party, then a huge police RBT line-up breath-testing outbound motorists on post-Mardi Gras Monday morning at 10 o'clock on Victoria Road just after the Anzac Bridge (10 a.m. on Monday! – who says the police aren't targeting the "gays"?).
5. The Olympic trampolinist Ji Wallace "surfing" his chauffeur-driven convertible up Oxford Street ahead of all the out-and-proud sports royalty, footballers, Australian star athletes and their allies, who participated in the Parade.
6. The hedonistic parade-goers including futuristic gladiators, the legendary Ron Muncaster, a Kim Jong-Un impersonator on a jizzing golden tank battling against an army of zombies, a lone, perfect  hibiscus flower, plus the hilarious and mega-munted group of equestrian girls on their hobbie-horses, frequently galloping in the totally wrong direction.
7. Kylie standing on her tip-toes at the side of the dance-floor, taking snaps of her little sister Dannii performing on stage at the RHI.
8. Mardi Gras saving the best for last: the closing sets at the Mardi Gras Party by deejay Mike Kelly from Cologne at the Hordern Pavilion, the impeccably pink-haired Kate Monroe playing at the outdoor arena at dawn and the slick, tight and fluoro-glow finale performance at the RHI by Betty Who.
9. All the bears at North Bondi, cordoning off a special nursery-rhyme area on the sand with white picket fences and pink flamingos, then kissing like Goldilocks much to the amazement of the families from Lakemba and Linfield.
10. Overheard at Woof Recovery at Arq: "Those guys are so old that they dance the YMCA in lower-case."
Photos:
How to turn adorable David's fish and chip shop in Rozelle into an instant Mardi Gras venue.
1. Install bubble machines, Mimi the mermaid, lifesavers and a blue-ringed octopus as catch of the day.
2. Dueling Mardi Gras deejays Garry Tee (Kuala Lumpur) and Mike Kelly (Cologne) on the decks.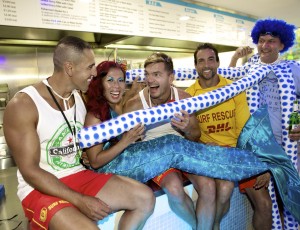 Mimi celebrating her 40th at David's Fish & Chip Shop (SeaBreeze, Darling St, Rozelle) with Life Savers and Jonathan Turner as "The Octopussy"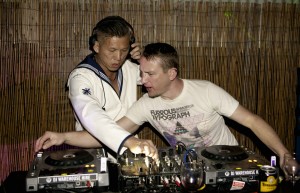 Gary T (Malaysia) and Mike Kelly (Cologne, Germany) on the tables at Mimi's 40th