In an attempt to keep this blog posting going on a regular basis, I am writing a week in review entry (with pics).
This week saw Benefit at it again with a huge launch of a new charity concept that the company is implementing for the month of May.  Benefit are donating a sizeable portion of the profit from each customer at their "Brow Bars" across the country.  This money is going to a selected group of charities involved with women's affairs namely, "Look Good Feel Better", "Sister2Sister" and "Fitted for Work".  Benefit is hoping to raise at least $200,000.
Benefit is, as you may know, is an exciting cosmetic company started in San Francisco by 2 ex-model twins, Jean and Jane Ford.  They both continue in the business which has now become part of the LVMH group of companies.  What is particular about Benefit, apart from the fact that they are one of the leading cosmetic companies in this country, is that they rely solely on social media for all their promotion and advertising, choosing not to enlist the more traditional promotional approaches in the cosmetic industry such as print media.
I covered the event and here are a couple of images.  I particularly enjoyed snapping the reactions of the girls at the "Kissing Booth".  You can rely on Benefit to inject a bit of fun into every activity and the 2 boys dishing out "pecs on the cheek" to anyone who was willing to donate a small amount into the jar beforehand, was no exception.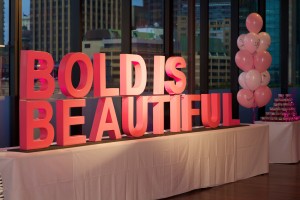 (I assume the boys got paid for doing that….not a bad job really, hey?)
---
"ALWAYS BOB DOWNE"
It was great to see Bob (aka Mark Trevorrow) out and about again this week.  He dropped in for a quick photoshoot for his next appearance which will be in Melbourne in a couple of weeks at the famous "Spiegeltent".  Bob will be "taking charge" as Master of Ceremonies with an obvious "Big Top" approach.  Bob is a consummate professional and has no trouble in adopting the "most natural" of poses our "candid" portraits, as you can see from some of the examples below…………always a hoot!
---