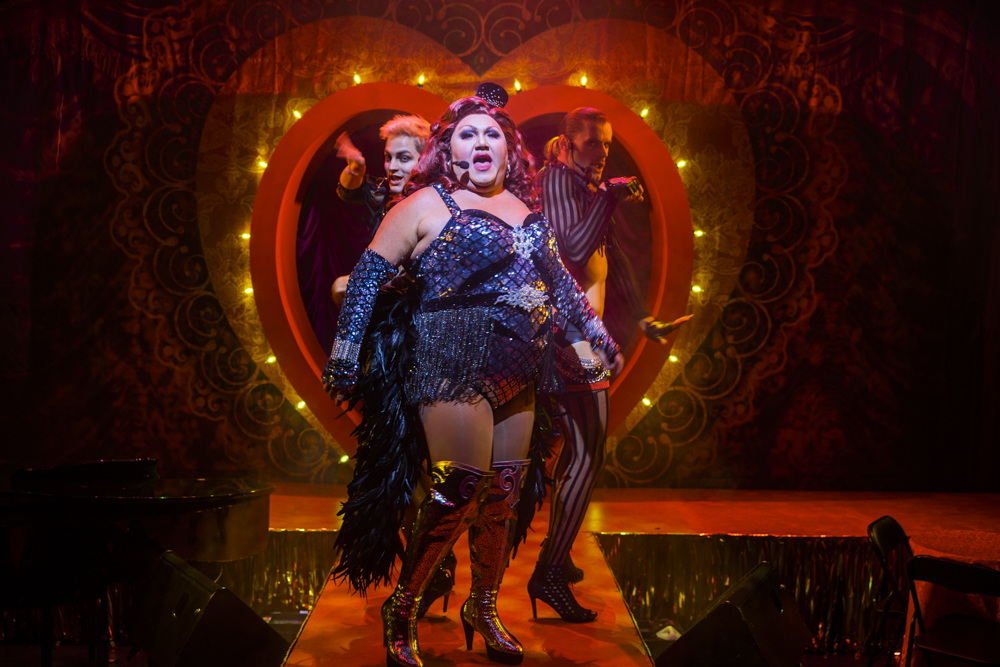 "Moulin Scrooge" has opened at the Seymour Centre in Sydney to wild laughter and much merriment, both on-stage and off. I have had the pleasure of photographing the various stages of the production, including the poster and the dress rehearsal, which gave me a sneak preview of Trevor Ashley's latest parody. This pre-Christmas spectacle features the iconic Carlotta, known as The Queen of Kings Cross, who shares the stage with Trevor, Jakob Ambrose, Stephen Madsen and Jarrod Moore. The mood is fiery and fierce.
Playing the role of club-owner Astrid Zeneca, Carlotta is a force to be reckoned with. As Australian entertainment royalty, Carlotta is an original cast member of the long-running Sydney-based male revue Les Girls cabaret show, which established an international following starting in 1962. Although best known as a cabaret performer, Carlotta appeared in the television series "Number 96" in 1974 as Miss Robyn Ross, in a storyline where she reveals that she is transgender. Her ground-breaking appearance in the show is the first time a transgender actress played a transgender TV character anywhere in the world. We need to applaud our true legends.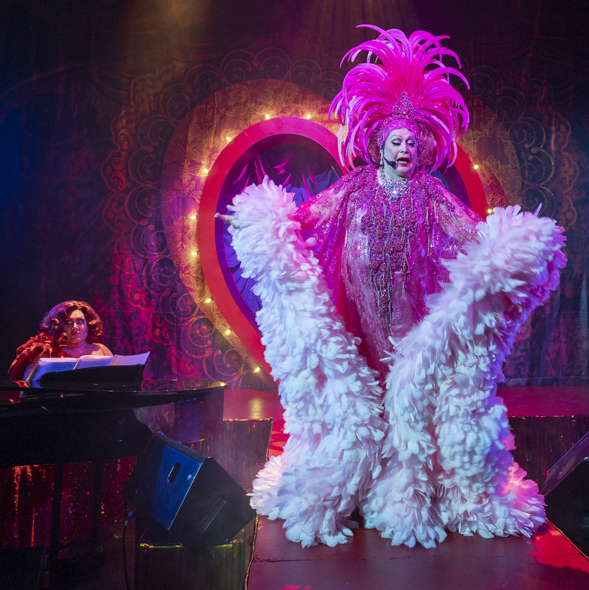 Meanwhile Trevor Ashley is known for his irreverent revues which include the likes of "The Bodybag", "Little Orphan Trashley", "Fat Swan" and "The Lyin' Queen", some of his long line-up of stage hits. Now, together with Phil Scott, Ashley has written a madcap adults-only panto as a satirical twist on a beloved Dickensian tale.
Here are a few images from the fast-paced show, with choreography by Rhys Bobridge, costumes by Angie White and lighting design by Sam Wylie. Book a ticket and treat yourself to a hilarious evening of stirring musical extravaganzas, purposely bad jokes, salacious dance numbers and lots, lots more.
"Moulin Scrooge" is now playing at the Seymour Centre, Sydney from 1 December – 15 December, 2022 Book here: