I often shoot for Slide, a cabaret performance space that does amazing food, in the throbbing heart of Oxford Street, Darlinghurst.  They create amazing performances under the direction of the talented musician and artistic director, Jeremy Brennan.
This recent shoot in my studio in Rozelle was, however, rudely interrupted by a four legged intruder.  The seasoned talent took this intrusion totally in their stride without missing a beat.  I've included some shots as proof, below.
Check out one of the nights at Slide (41 Oxford Street, Darlinghurst, ph 02 8915 1899)
The intruder in question with a "Fat Man"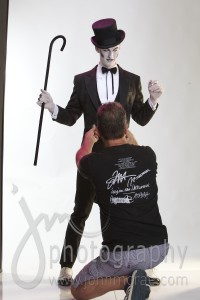 The "Fat Man" being re-positioned and tidied by the trusty stylist, Jonathan Turner.