Last week I shot for the magazine, Mindfood.  This was my second shoot with these guys.  I enjoyed the day totally.  It was a great team with hair by Dan McLennan, make-up by Andrea Black, and the fashion editor was Emma Wood.
We shot in the studio of Neil Frazer (just referred to as Frazer).  He's a talented NZ born, Australian artist who shows with Martin Browne Fine Art, one of Australia's leading contemporary commercial galleries.  It was so cool to be surrounded by all his art work and just to be in that kind of creative space.
I shot Frazer in his studio and I also shot a colleague, Viola Raikhel-Bolot.  Viola, although not an artist, is a top level art advisor.  We had a lot of fun and worked hard for most of the day on creating some interesting and engaging images for the magazine.
I'm looking forward to the winter edition when it comes out on the shelves.  Buy a copy!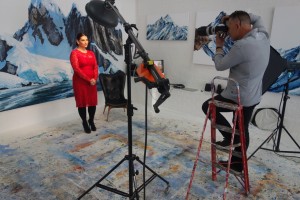 Here's me in the middle of shooting Viola for one of the shots……..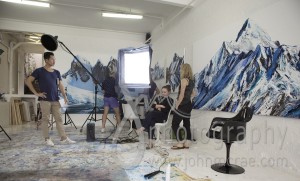 Fabulous creative space, as you can see.  The man looking very heroic is Darren Lee, Mindfood Artistic Director.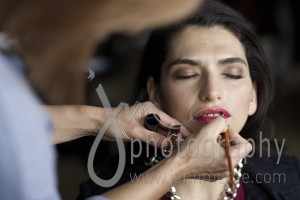 The very beautiful Viola in make-up with Andrea Black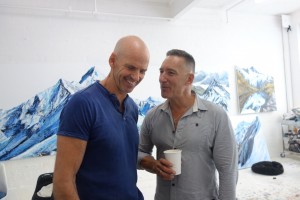 Frazer and I having a laugh in between takes………….