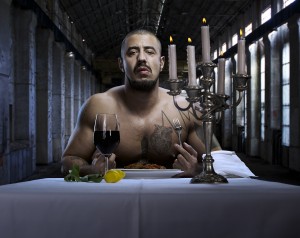 Ali & Osso Buco wins the 2013 "Shoot The Chef Competition"
I received fabulous news on Tuesday. I knew that I had been selected as a finalist in this years "Shoot The Chef", what I didn't know, until I read the paper, was that I had won! I always assumed the winners of these types of competitions were gently informed before hand. I wasn't…. and when I received a text from my friend, Domonic, I merely said, "you can"t believe everything you read in the newspaper".I'm happy to say it's true and I'm going to collect my prize money on Thursday night at the opening of the "Good Food Month" at the Sydney Opera House.
This image is my interpretation of what a contemporary chef might look like, and a parody on the concept of fine dining. It is part of a series of photographs I have been working on with the Sydney chef, Robert Zampogna. Robert was the Executive Chef at the East Lakes Golf Course for about 10 years and last year he approached me with the concept to produce a cook book together, titled Hungry. Ali & Osso Buco, as the name suggests, is our visual rendition of Rob's Italian dish, Osso Buco. Ali plays the role of the inverted aristocrat beautifully. He is seated, bare-chested, alone at a table, his napkin to one side as he chews his candle-lit meal. He stares provocatively at the viewer. The setting is "grand industrial", and the backdrop is a shot I captured on a recent visit to the disused White Bay Power Station.
I've always enjoyed seeing the images each year from "Shoot The Chef". I like the subject of food and the idea of the chef, it showcases some amazing creativity and this year I decided to be part of it…and I can tell you I'm glad I did.
Thanks to Ali and Rob for their brilliant contribution and collaboration to this win.