No rest for the wicked! Even though I was technically on holidays, over Xmas I agreed to do a job for a few cool performers that I have worked with before.
I took the job because they're great fun to work with and at the same time, very professional in their approach.
The task on hand was to loosely re-create the "Death Becomes Her" poster image for a new drag show these guys were about to launch at Stonewall in Oxford St, Darlinghurst.
Below is a shot of the guys together during the shoot……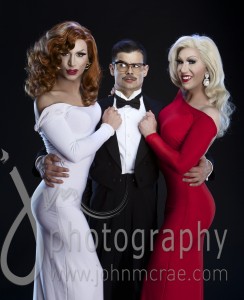 Well the poster is ready and the show is about to launch on a Friday night at Stonewall.
See the final result below and go along and have a look at what these guys are capable of…..